Kapitan Keling Mosque, Jalan Masjid Kapitan Keling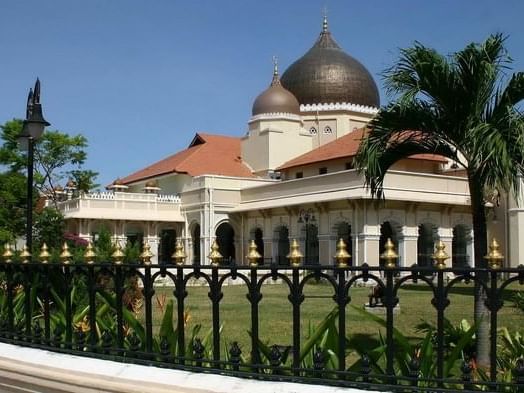 This monumental mosque, crowned by yellow domes and minarets, is the largest historic mosque in town, founded before 1800 by an Indian Muslim merchant, Cauder Mydin Merican. Built on a site granted by the East India Company, it represents the Indian Muslim community of George Town. Permission to enter must be obtained from the mosque officials. If you're wondering what to do in Penang, this is a must-see.
(NOTE: It is interesting to note that the Jalan Masjid Kapitan Keling is also dubbed the "Street of Harmony" - where along a 2km stretch, you can find four different religions' places of worship; the St George's Church, The Goddess of Mercy Temple, Kapitan Keling Mosque and the Mahamariamman Hindu Temple in the same row - each unique in its own way, but together, represent the religious harmony so evident in the Malaysian culture).
14 Jalan Buckingham 10200 George Town Malaysia
Monday11:30 - 01:00 pm 02:00 - 04:00 pm 05:00 - 18:30 pm
Tuesday11:30 - 01:00 pm 02:00 - 04:00 pm 05:00 - 18:30 pm
Wednesday11:30 - 01:00 pm 02:00 - 04:00 pm 05:00 - 18:30 pm
Thursday11:30 - 01:00 pm 02:00 - 04:00 pm 05:00 - 18:30 pm
Friday02:30 - 04:00 pm 05:00 - 18:30 pm
Saturday11:30 - 01:00 pm 02:00 - 04:00 pm 05:00 - 18:30 pm
Sunday11:30 - 01:00 pm 02:00 - 04:00 pm 05:00 - 18:30 pm